Much of Texas was hit hard by an artic storm system in February that dropped snow and temperatures to single-digit record lows. Many homes were not prepared for the powerful blast of cold. Power went out and pipes with little or no insulation froze and burst. "A double whammy," as longtime plumber Paul Mitchell observes. The situation was massive. Some residents had not experienced an actual bath or shower for two weeks.
'We're going to go'
Through several confirmations, it had become very clear to Paul and his wife, Diane, that God wanted them to head to Texas and help people who didn't have safe drinking water, who couldn't take showers, much less use their own toilets. The Mitchells rounded up equipment and, along with their son, headed from Ohio to Austin, Texas.
Thanks to their church, friends, and Cedarville University – where Paul retired from, and his wife works - the Mitchells' project and needs were fully funded so they could get down to business, God's business, helping people in trouble.
An invisible disaster
Paul, a retired plumber who keeps active in his trade, explains the weird sensation when they arrived in the Austin area. He says it didn't look like a disaster. "You think of driving into a neighborhood and your eyes immediately tell you, 'Oh, this is horrible. This is a disaster.,' whereas this time you go into the neighborhood and it looks beautiful. Everything is in order." But Paul makes it clear, "The disaster was inside the home!"
In some cases, ceilings were brought down by free-flowing water from broken pipes, walls were damaged, as were household belongings. Paul, and others who volunteered, worked in conjunction with 2 organizations, Water Mission and Plumbers Without Borders. We understand volunteer plumbers are still needed.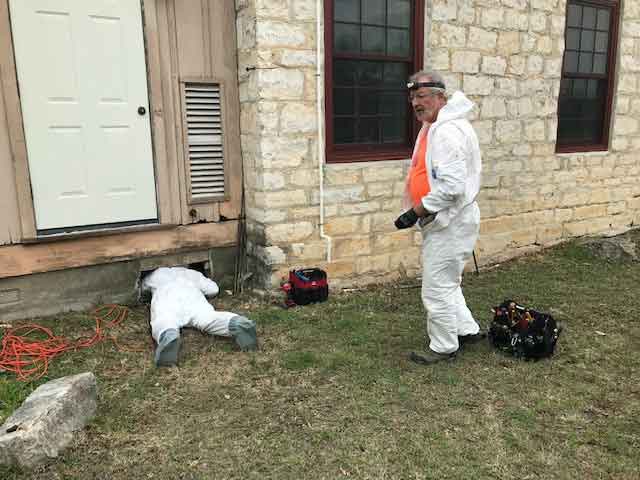 Because of the mass damage, plumbers in the Austin region would be backed-up for months, and some residents couldn't afford a plumber to begin with, so the volunteer work touched many hearts. "We were able to help those who are needy and elderly and get them back in water," shares Paul, who considers his work a mission for the Lord. "Hydration and hygiene are the two most important things with water – and life depends on water – for those two very things. And when you don't have those things, you're going to break down very fast." Paul says the situation was so bad at one apartment complex "people were bringing pots and pans from their kitchens – to the community pool" so they could have water to flush their toilets.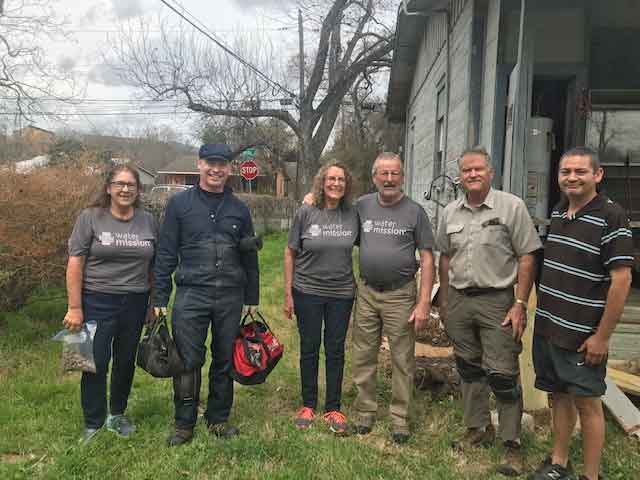 Encouragement & prayer
Diane's role, besides being the chief encourager, was to find the right tool needed and relay messages to and from the plumbers hard at work underneath a home, surrounded by framework, pipes, and dirt. She also kept an eye out for undiscovered leaks. As a big believer in prayer, Diane found the people they were serving very willing to pray "and we would reach out and hold their hands and it was just so special …. we know we may be only planting a seed [of faith], showing love, but we're doing it in Jesus' name." Diane shared about "this sweet lady, she was 94." Paul and the other plumbers "almost replumbed her whole house … we got to pray with her and when Paul came in and told her she would have hot water tonight, her first response was, 'Hallelujah, I get to take a hot shower tonight!'"
Paul shares one of the highlights he'll always remember about the team of plumbing volunteers, "It was so neat to see diverse people from all over the U.S. who had a common purpose and a common heart – and we could meet together in the morning, we could pray together in the morning, and everybody would just say 'amen' and hit the road and go to our tasks."
In our podcast below, Paul shares how the Lord, and his wife, encouraged him to go on his first mission trip, which was to Africa some years back. He knew God was asking him to use his skills to show the Love of Christ to others. And that can-do mindset continues today for both the Mitchells.